An Email List is the lifeblood of every successful online business, You don't own Instagram, Facebook or Twitter the next affordable thing you can own after your website is your Email List.
The Grow Your Email List Challenge is for Course creators and Coaches who are looking to increase their revenue by exploring more sales channels, which in this case, is -Email Marketing.
Email Marketing is a highly effective digital marketing strategy of sending emails to prospects and customers. Effective marketing emails convert prospects into customers and turn one-time buyers into loyal, raving fans! It's the most direct and effective way of connecting with your leads, nurturing them, and turning them into customers, consistently winning out over all other marketing channels.
Of course, you can't do any of these without an email list. It is illegal to buy email subscribers, you could be persecuted for that! Your best bet is to grow your own list.
In 2021 don't go launching courses without an Email list , well you can do so with your low-ticket offers, but to make the real money, you NEED a healthy email list.
I can tell you that because I have results for myself and my clients using Email Marketing to generate quality leads and sell offers.
To kick-start your year I am bringing you a
"FREE GROW YOUR EMAIL LIST CHALLENGE"
You know you should add Email Marketing to your strategy but you have been lazy or overwhelmed with where to start from, this is what you need. I will be publishing success stories, so join the train before we move!
The Challenge starts on the 29th, Of January, 2021 It will last for 10days, you would get prompters on what exact steps to take each day.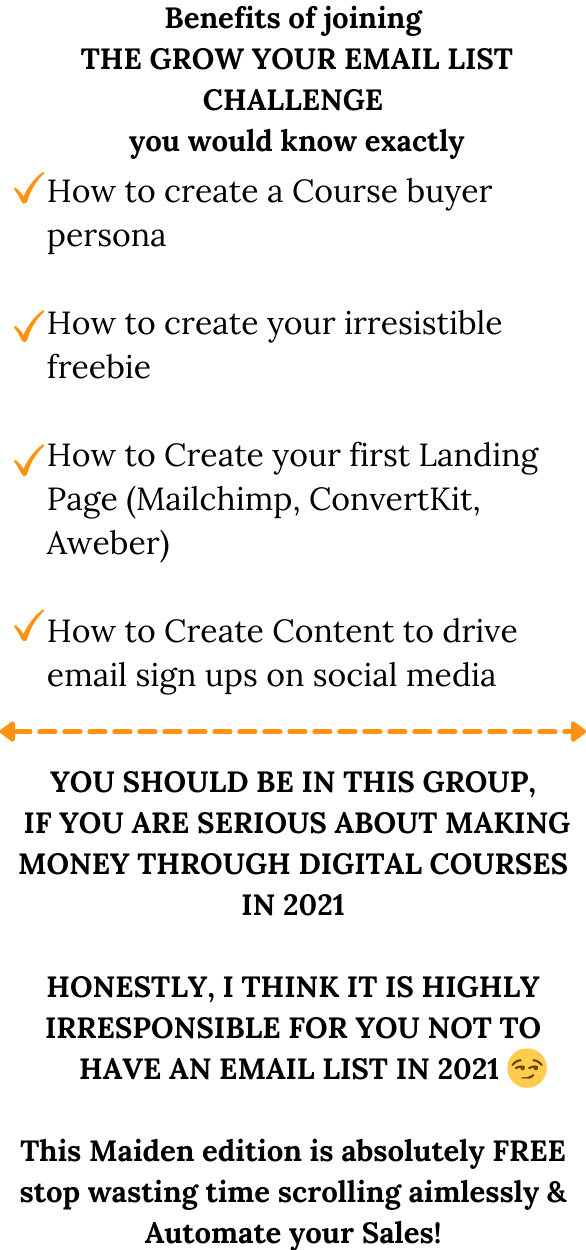 I respect your privacy and will not share your information with a THIRD PARTY